May 25, 2023 @ 12:00am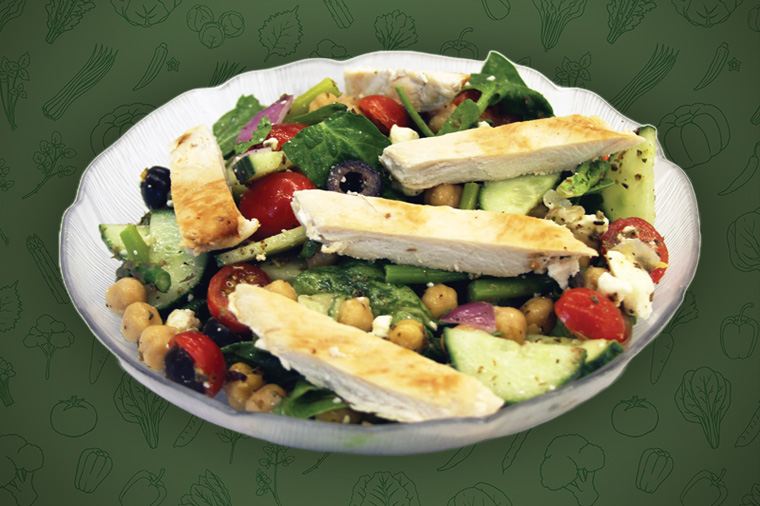 Add asparagus chopped salad to your list of refreshing summer sides!
---
This asparagus chopped salad is a perfect, colorful option to jazz up your summer side recipe rotation!
Serving Size: 1 serving | Yield: 4 servings | Calories per Serving: 310 | Total Time: 40 minutes
Ingredients:
¼ lbs. asparagus (approx. ½ a bunch), trimmed and cut into 2" pieces
12 oz grilled chicken strips
3 cups mixed greens
15 oz can of chickpea or garbanzo beans, rinsed
1 cup grape tomatoes, halved
2 English cucumbers, halved and sliced
½ cup red onion, diced
½ cup kalamata olives, pitted
cup feta cheese, crumbled
Dressing:
3 Tablespoons olive oil
Juice from ½ lemon
¼ cup dried oregano
¼ teaspoon salt
¼ teaspoon ground black pepper
Instructions:
1. Grill chicken until you reach an internal temperature of 165°F for at least 30 seconds. Remove and let cool. Slice chicken and set aside.
2. Blanch asparagus by bringing a medium pot of water to a boil. Add a dash of salt and the asparagus. Cook for 2 minutes, then remove asparagus and place in a bowl of ice water. Let cool, then drain.
3. In a large bowl, combine mixed greens, asparagus, chickpeas, tomatoes, cucumbers, red onion, olives, feta cheese, and sliced chicken.
4. In a small bowl, make the dressing by whisking together the olive oil, lemon juice, oregano, salt, and pepper.
5. Pour dressing over salad and toss to combine.
*This meal option can easily be made vegetarian by removing the chicken. Additional protein options that can be utilized include shredded chicken, grilled shrimp, salmon, hard boiled eggs, or tuna.
Recipe provided by BRMH Registered Dietician, Wendy Backaus. Adopted From: Ahead of Thyme