September 01, 2021 @ 12:00am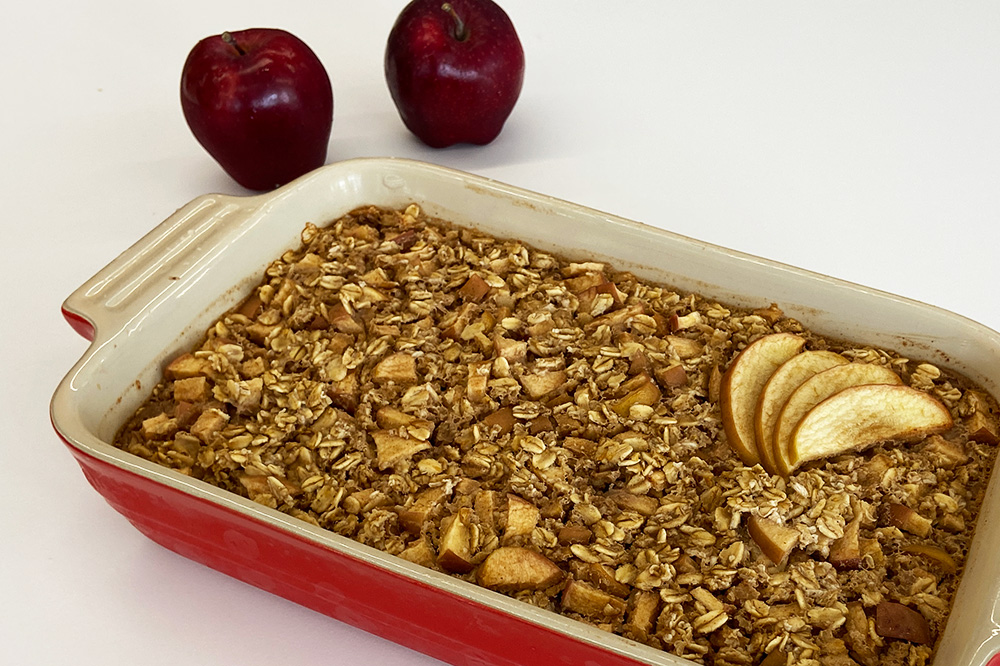 Infuse your day with a healthy helping of this fall-inspired take on a breakfast classic
---

Prep time: 10 minuntes
Cook time: 45 minuntes
Servings: 6 servings
Calories: 245/serving
Ingredients:
2 cups rolled oats
½ teaspoon baking powder
5 teaspoon ground cinnamon
¼ teaspoon nutmeg
1 pinch salt
1 large egg (beaten)
2 cups almond milk (or milk of choice)
1/3 cup real maple syrup
1 teaspoon vanilla extract
2 apples (chopped)
Desired add-ins
Instructions:
Pre-heat oven to 350 degrees F
In a 8x8 inch baking pan, mix all dry ingredients.
Add almond milk, pure maple syrup, vanilla extract, beaten egg,
chopped apple, and additional mix-ins.
Mix it together well, scraping the sides to catch any dry pieces.
Bake in oven for 45 minutes.
Let it rest for 5 minutes and serve. Try adding almond milk and
a drizzle of maple syrup over top or eat it the way it is!
Possible Add-ins:
½ cup raisins
½ cup craisins
½ cup nuts (almonds, pecans, walnuts)
Storing Leftovers
Put the remaining oatmeal in an air-tight container and you can safely refrigerate it for 4 days. This can also be frozen for months and also reheats well. After removing from the freezer, allow it to defrost in the refrigerator for around 24 hours. You can reheat it again the same way by covering it with foil until it is hot.