May 10, 2023 @ 12:00am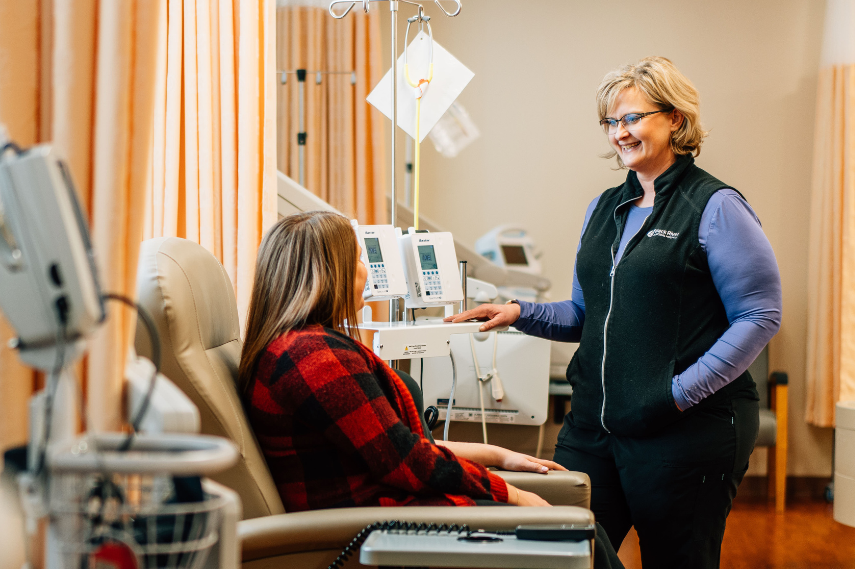 A center developed to help save patients' time - and lives
---
When you're not feeling great, the last thing you want to do is travel a long distance for treatment. That's the purpose behind the Infusion Center at Black River Memorial Hospital: to offer care so many rely on, close to home.
An experience in our Infusion Center is sure to be top-notch — pairing top-of-the-line equipment and knowledgeable staff, with equally high-quality care for all patients. The staff of the Infusion Center love what they do, and it shows in their care. "There's an immediate relaxing feeling when you enter, and you can feel they are here for you over anything else," says Diane Steere, an infusion patient. "The staff's kind demeanor and overall actions to immediately take care of you is very meaningful to me."
The BRMH Infusion Center offers the following types of infusions and services:
Cancer treatment – both chemotherapy and immunotherapy
IV antibiotics
Iron infusions
Blood transfusions
IV hydration – fluids and electrolyte replacements
Biologic therapy to treat autoimmune
Therapeutic phlebotomy (the removal of blood from the body through an IV for medical reasons)
Allergy shots – treatment for anything from dust, pets, trees, and pollen to anything else one has an allergy to
Our Infusion Center also offers simple conveniences such as port flushes, central lab line draws, dressing changes for those doing home antibiotics, and unhooking infusion pumps. These additional services all save patients precious travel time.
It is a simple process for a patient to get set up to have their infusion needs met at the BRMH Infusion Center. "All their doctor has to do is send us the orders," says Ashley Fjelstad, Director of OB and Infusion Services. "We take on the insurance piece of it as well as getting their appointment set up. We just need to know they need the treatment, and then we can take it from there."
The center presents an amazing opportunity for patients to request their care stay local, because our staff will gladly work with them to make it happen. And that's what we're all about: ensuring the community has close access to the quality care they deserve.
For more information on our infusion services or to talk about how to transfer your care local, please call us at 715-284-5361 or email us at excellence@brmh.net